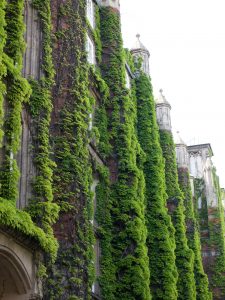 This was our day by ourselves in Hamburg. We had breakfast with Andrea and Peter, and then took off for the harbor area again, this time to take the boat to Finkenwerder (where I briefly showed Mark where I lived the last year I was in Hamburg) and then on to Teufelsbrueck, from where we walked along the Elbe to Blankenese, with absolutely fantastic weather and with lots of stuff to watch, including a big container ship going by and sail boats etc.
We walked up to the top of Blankenese (although I couldn't find the park with the peak where I'd been before with Steve all those years ago) and then had a Doener in a little park before taking the S-Bahn back into town and to the area by the city park where I used to live in the dorms. I showed Mark my dorm room from below, and then found my way back to the city park without remembering any visuals of how it worked; it was odd, I was on sort of an autopilot of knowing how to get there without having any images of the shortcut through the gardens etc. The city park main meadow was absolutely packed with people grilling and hanging out, and the side pathways were just gorgeous with all the rhododendron in bloom. We took some pictures of the planetarium and then found our way to a beer garden where we'd said we would meet Karsten and his sons (eventually his wife came to join us, too).
We spent a couple of hours chatting partly in German, partly in English, and had a very good time. We took the subway back alongside Karsten and his kids (15 and 13, and both with beautiful long hair), and then took a quick turn through campus and through the gardens at Planten und Blomen, where we saw more beautiful greenery and had some Italian gelato to round off a perfect excursion day. It's wonderful that this much happiness is possible!
We made our way back to Andrea's and Peter's apartment, had lovely pasta for dinner, and then sat around for a bit, chatting and watching part of the impossible Grandprix d'Eurovision song contest, just to show Mark what an absurdity it is. But I was very tired, so we headed to bed very soon after that, and I fell asleep before Mark was even out of the shower!