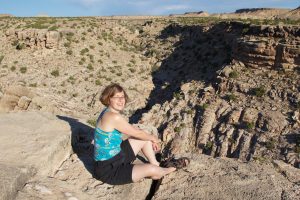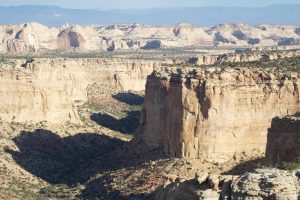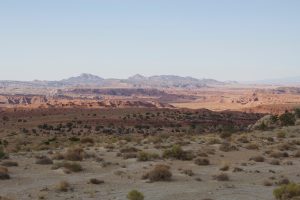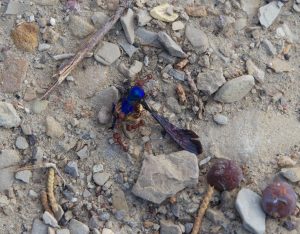 This was mostly a driving day, but since we were only 7 hours or so out from Las Vegas, we could take our time. On the first 100 miles or so of the I-70, there are five or six "view point" rest stops, and we stopped at all of them to take pictures and to take in this amazing, alien landscape, with its red, orange, and grey-green bluffs, cliffs, mounds (where the erosion is advanced a bit further) and its amazing pile-ups. Pictures don't usually do it justice, because the scale of the bluffs is so outsized, and because it often surrounds you on all sides as far as the eye can see, the landscape just cut through by those two bands of road that are the interstate snaking through. The San Rafael Swell was especially impressive, but there were some really cool canyons and formations all over. Later, there were fewer viewpoints, and we just looked at the landscape in passing, including slightly moister areas with vegetation where we could see the remnants of the Utah fires this year, sometimes going right up to the freeway.
We stopped in St. George, which is pretty sizeable, but almost at the border to Arizona/Nevada, for lunch at a Chili's, and continued to Las Vegas. We hit the South Point Casino (really outside of town, away from both the old and the new Strip) around 3 pm and settled into our room. We registered for the TAM conference, which starts tomorrow, and although we didn't nap, we got a little rest. It was freaking HOT, 110 degrees, and when we ventured back outside, it felt like we opened an oven door. But venture out we did–first, we found one of Mark's favorite stores, an electronics store called Fry's (to be known henceforth as "Mark's Sephora store" because it is to him what cosmetics stores are to Kati 🙂 ), and looked at all the many things people buy at electronics stores. (I actually bought something, one of those U-shaped travel neck pillows, but it really didn't belong in the store.) Then we explored the mall next door a bit in search of swimming trunks for Mark, and got him some for $ 14.00 at Old Navy, plus a Pride t-shirt on clearance for Kati (score!).
By that time it was after 7 (not much cooling down, though–106 F), and we headed toward the old Las Vegas strip on Fremont Street. We milled around and saw the full "Fremont Street Experience": live bands in three spots playing bad 80s rock, the 8 pm and 9 pm display of the gigantic LED screen that goes like a dome over the length of the two blocks of casinos, with graphics designed to go with terrible but popular songs ("American Pie" was the one, the other was a Bon Jovi medley), street musicians and street artists, plus a number of people who were celebrity look-alikes and attracted tourists for photo ops; the zip line going over a block above our heads, the bored go-go dancers standing in front of various casinos and the Chippendale's guys for more photo ops; the beggars and the homeless people …. and people of all ages and ethnicities and dress styles taking photos of everything. It was a lot of fun; we found ourselves some cheap, bad Chinese food and some excellent gelato, and milled around watching people and moving between the competing bands. We called it a night shortly before 10, found our way home pretty quickly thanks to the GPS, and went to bed early and rightfully tired!