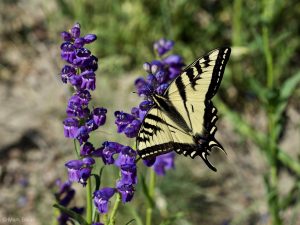 We got up early and spent the morning in Mesa Verde, in the less-visited half of the park, the Wetherill Mesa.  We got there at about 8:45, again driving across the beautiful mesa terrain but also through many areas where the green bushes were overpowered by burned, dead juniper trees from wildfires in the past 30 years (recuperation is very slow).  We took a short (1-mile) hike to a smaller cliff dwelling, Step House, that we could tour on our own, and that had both a pit dwelling (with a reconstructed roof, so we could finally imagine a bit better what that might have looked like) and some of the brick buildings of the cliff dwelling period.  We made our way up to the top in time for our ranger-led walk at 10 am (we had purchased the tickets the day before), a two-hour hike to Long House, one of the biggest and most interesting of the sites in the park.  It was really elaborate, with walls high up on rock shelves within the alcoves, which would have been storage (with some, we could not fathom how the ancient Pueblans could have climbed up there), and with an obvious water source, a seep spring, now all covered in moss and fresh greenery.  The site features little cup holes carved into the surface of the rock, where the families who lived there (perhaps up to 150 people) could get water from the seepage one cup at a time.  Mark found one of those cup holes that still had a trickle of water coming into it through the little canal that was carved to capture a maximum of seepage.  It was a bit muddy, but it clearly would have worked if it had been cleaned out! The site also had a bunch of markings where the corn was milled and where axes were sharpened, as well as some petroglyphs and pictographs (including a handprint that was really visible).  We were glad we saw some better petroglyphs yesterday on our evening hike, because these were pretty hard to see.  The tour was informative, but of course there was some overlap with yesterday's talks–we are really, really firm now on the time when corn was introduced to the region (500 AD) and on the sacred, spiritual meaning of the sipapus, the little round holes that are part of almost every kiva floor.
Side note: I have to say I am always very skeptical of the religious explanations that the guides so readily provide, because it's not exactly fair to say "we really don't know anything about these people's motivations for building in the alcoves below the mesa and / or about why they left" and then superimpose the religious tales and practices of the Hopi and the Pueblo Indians today on their ancestors.  The kivas look so much like the pit-houses to me in overall design, I can't imagine they were only used for sacred purposes in the past.  And clearly some were used for living in.
At the end of the tour, we had our choice of ways to walk back to the parking lot, and we took another mini hike to look at one more cliff dwelling that is quite large but can only be seen from a distance now.  The geologist / archeologist who first explored the alcoves systematically for the family that owned the land (the Wetherills) marked it in the late 19th century as site # 16 (Long House was # 21), and so now it's know by his name, Nordenskiöld # 16 (he was Swedish, and apparently sold most of the artifacts he found to Europe, so Helsinki is the place to check for some incredible ancient Pueblo pottery). And on the walk back through some fire-damaged terrain, we spotted several animals, including a squirrel on a very dead tree (we thought he was a sort of sentry for a whole group), and a beautiful lizard who posed very patiently for Mark's camera.
Back at the rest area / info kiosk, we had our daily picnic, and by about 2 pm, we were ready to leave Mesa Verde and get on our way to still reach Alamosa, 4 hours further East, by dinner time.  The drive was uneventful and had breathtaking views, sometimes completely unexpected.  Once we were past the Mancos valley below Mesa Verde, the landscape got Alpine again as we went North just a little bit, and at the highest pass on the way across on Highway 160 (Wolf Pass), we were back in full-on ski-resort territory.  Then, an hour or so later, we were starting to see desert terrain again, even though we were never far from the Rio Grande by this time.  We got to Alamosa at just about 6 pm, and went to a Mexican restaurant that a student of mine who lives here had recommended to us.  The food was good, simple Mexican fare, and although we really hadn't planned on having desert, our neighbor's sopapilla sundae looked so good that we split one.  We then checked into the motel (older and with the nasty 70s wood paneling, but spacious and sort of endearing, with snacks and juice boxes in the fridge), and I did a quick grocery run before we started on our blogging routine and went to bed.