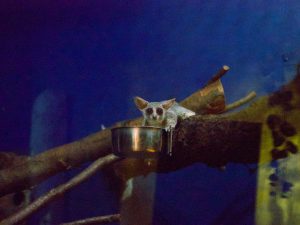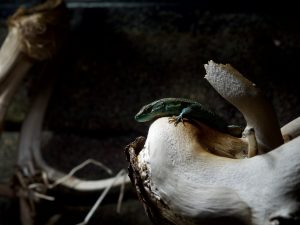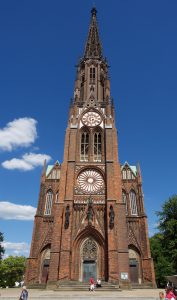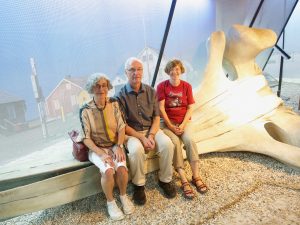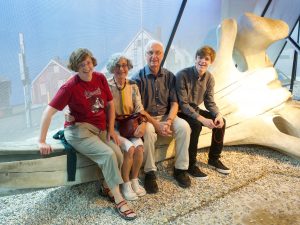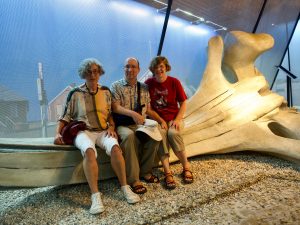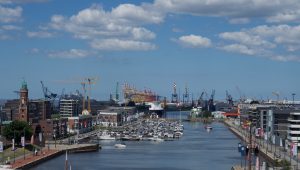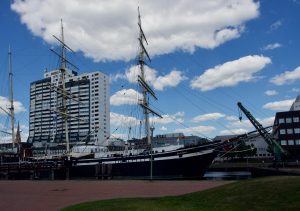 Today was our last excursion—we went to Bremerhaven to get a special tour of the Klimahaus, an experiential museum about climate zones, and of the town, by Klaus, my mom's boyfriend, who has a management position at the museum. We had to get up very early to take a 7:00 am bus and the 7:34 train to Bremerhaven (which takes about 2 hours), and Kai really managed to do this without making us all panic, even though it took a bit of explaining for him to understand why his grandmother had reminded him about this all week long rather than treating him like an adult—that it was really important to her that this day would go smoothly and that we would all make mutually good impressions on each other—Klaus on us and we on him. 🙂
Everything went really smoothly on that count. Klaus is a very nice man and a great guide, and he also speaks excellent English. He picked us up from the train station and we all took the bus to the port, now mostly used for museums and shopping, and called the "Museumshafen" (museum harbor). We've been there before to see other things, like the little maritime zoo and the Emigrant House, but this visit was mostly about the Klimahaus (Climate House). Klaus ("Climate Klaus," he said) has been with the Klimahaus ever since it opened in 2009 (we were there in 2010 with Uschi, and I remember a rather rushed walk through with the kids when it was very very busy). The museum (or "experiential space" as they prefer to call it) starts with everyone following a young man's journey around the world along the 8th degree of longitude, i.e. roughly the longitude of Bremerhaven, through all climate zones. By walking around the exhibit spaces, we travel south around the globe through Switzerland, Sardinia, the Sahara (Niger), the rainforests of Cameroon, Antarctica, Samoa, Alaska with a detour to visit the starry skies over the North Pole, and then to a Hallig, or islet without any dykes, just north of Bremerhaven. It was really interesting, and because the environmental message was so understated, with very few explanatory plaques and statistics, it actually had more of an impact. On the surface, the emphasis was on "get to know the people, plants and animals of each region," but beneath that was clearly the idea of climate change and other environmental issues—rain forest deforestation, ocean trash, and the use of drinking water by uranium mining companies in the Sahara. Of course, it is geared to people, especially kids, that may not have spent as much time thinking about the horrible impact we have on the planet as we already have. I walked out of several rooms with tears in my eyes. I do wish there had been more of a "final chapter" or additional exhibit about what visitors can do to change their impact, and I swear that they had such a room in 2010. But Klaus didn't know what I meant when I tried to ask about it, and may have misunderstood me. We spent all morning, from 10 to almost 1:30, in the Klimahaus, and he said we only saw about 25% of what there is to see. He is clearly very proud of this impressive museum, and rightly so.
Since we were in a harbor, it was only fitting that we then went to have lunch on a ship, a three master outfitted as a restaurant that specializes in ocean fish. Kai, the vegetarian, was able to find a chickpea curry, and Mark had pork Medaillons with Spätzle, but Imke, Klaus, and I had various kinds of very well prepared fish. It was a lovely lunch, and Klaus had even brought presents—a bilingual book about Bremerhaven and the annual Klimahaus magazine. Afterwards, we walked along the dyke to the part of the harbor to watch the lock system in action—the little yacht harbor is protected by the locks from the fairly dramatic tidal changes here at the mouth of the river Weser (Klaus said the difference between low and high tide could be up to four meters). In the background, we could see the actual port, where car exports are now the biggest thing, whereas in the late 19th century, this was of course the port of exit for most emigrants from Germany, even more so than Hamburg's port. The last part of the tour was the main pedestrian area, the so-called "Bürger" (after "Bürgermeister Smid Strasse," named for the first mayor of Bremerhaven, which became the new port for Bremen in 1827, a city stamped out of the ground where there had been none, because the river Weser downstream, where Bremen originally had its port, had gotten too shallow for freight due to silting and the ships having gotten bigger. This was something I didn't know about Bremerhaven, which is about an hour by train or car straight north of Bremen almost at the open sea—even though I'd been there multiple times with Uschi, whose significant other, Wolfgang, lived there for many years and showed us various aspects of the city. (He died a year and a half ago, and I fondly remember his fascination with everything having to do with ships and harbors.)
We looped back around to the Klimahaus via yet another highly recommended gelateria, but this time, we just got a scoop each to go and walked to our bus stop. Klaus went on the bus with us and then took the train home to his train station, while we took off for the 2-hour trip back to Osnabrück. We also slept for a while on the train—the weather is beautiful, but also warm, and the busy day had wiped us out. We were home about 7, had bread and such for dinner, and then I still got busy—I had to bake brownies for tomorrow and tussle with two loads of laundry (always a big production in Germany), so I was busy until about 10:30 with that, while Mark putzed with computer things.