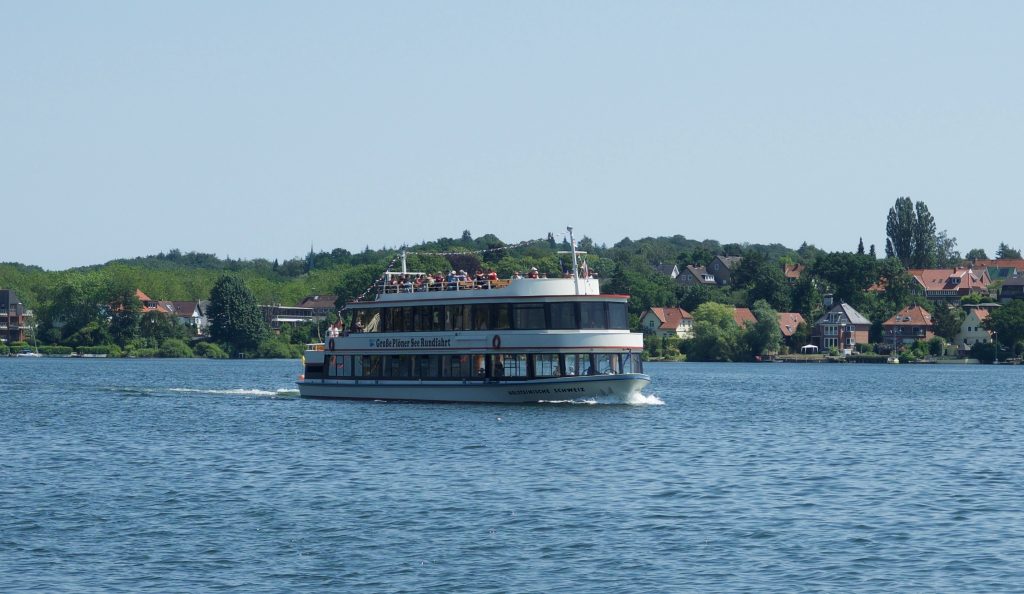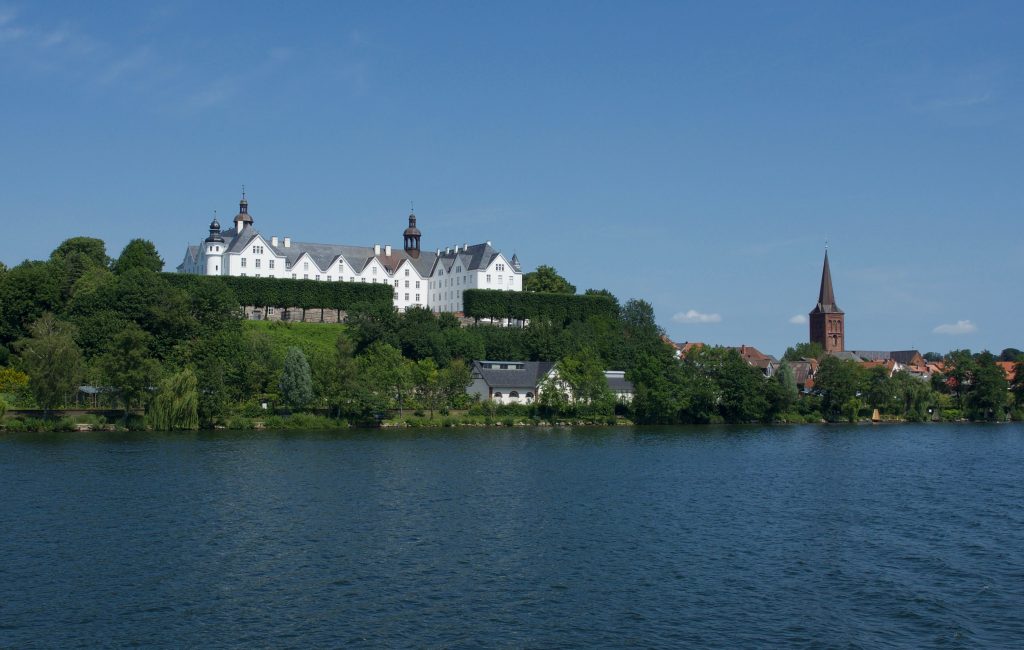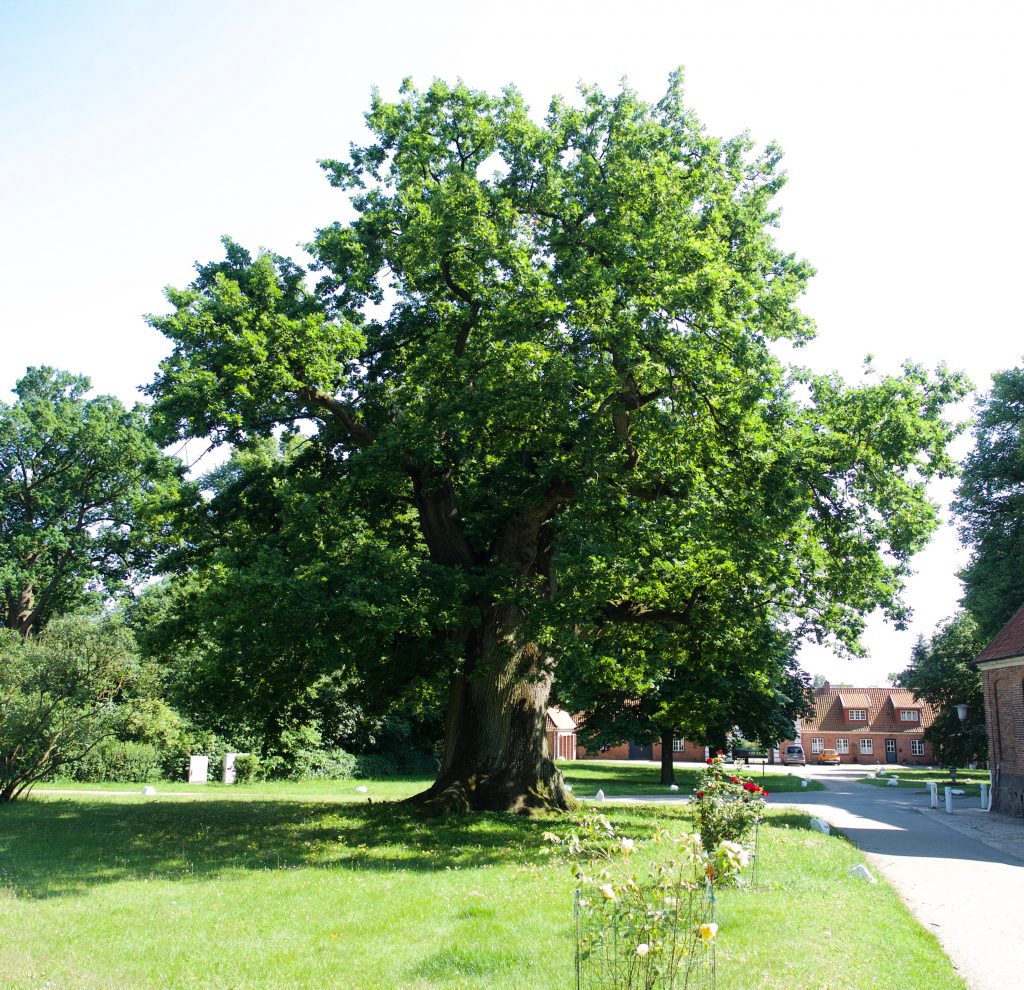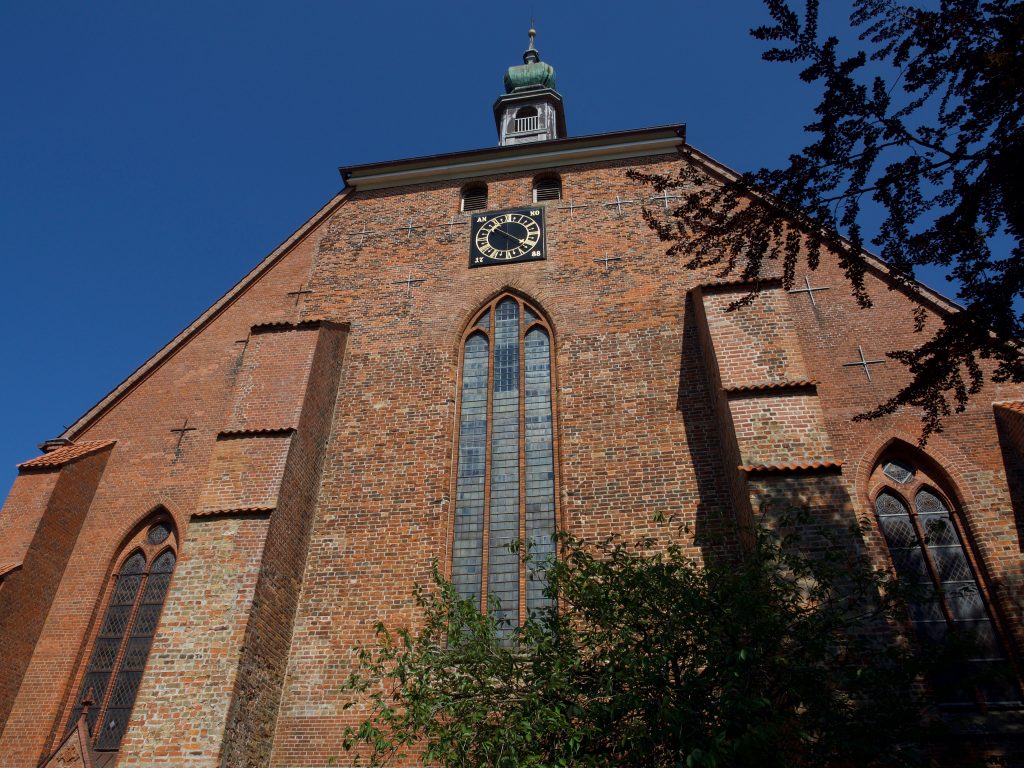 After our day at the seaside yesterday, this day was our Lake District day. Even thought the state we are in (Schleswig-Holstein) has plenty of ocean water surrounding it (the Atlantic on the West, the Baltic on the East, with only a hundred or so miles of land in between), it is also full of lakes. The district we are in right now alone has 60, of which 5 of them fairly large (although the largest, the Grosse Plönsee with its 30 square kilometers (under 12 square miles) is not exactly one of the Great Lakes. But the landscape, shaped by the ice age, is gorgeous and the lakes are all very pretty, with little towns and villages and boat docks all along, and bird sanctuaries in between.
So, after breakfast and a somewhat slow-moving legal conversation we needed to get through, we went on our tour of the lakes and their district. First, we drove to Plön, a town right at the water front about 20 minutes from J & M's house, and walked around the town with its beautiful former palace/seat of the regents of the area (now a school for opticians run by Germany's largest manufacturer of glasses), the Schloss, its old red-brick church and its beautiful little houses and shops. We had a cup of coffee and tasted some cake Judith and Michael thought was especially good, and then wandered to the lakeside and bought tickets for a 2-hour boat ride. It was getting warm but it was still cool enough for us to sit on the top deck in the bright sunshine and watch the coastline as the boat maneuvered through various little islands (Michael calls them mole hills, but their are green, either with shrubs or actually little wooded areas with mature trees). We went past the so-called Island of the Princes, a peninsula famous for the fact that the sons of Germany's next-to-last emperor were educated there, from 1896 to 1910, after military high school, to learn about agriculture and water management. (This is the kind of information that came from the tape that the captain of the tour boat played at the appropriate moments). Just past this island, we briefly saw a sea eagle on one of the trees—too far away to photograph, sadly—and then also quite a large colony of white swans, more than I have ever seen in one spot.
Beyond that, the lake tour was mostly just little stops at various small villages and a beautiful, slo-mo view of the beautiful landscape surrounding us. After about 2 hours, we got off at a stop near Plön and then walked the rest of the way back to town along the lakeside, in the shade of the trees that line most of it. Very nice. By now it was after 3:00 pm, and I was getting hungry (or at least had a sugar low). We drove to another nearby town J & M knew well, and went to a jack-of-all-trades "international cuisine" restaurant, since Judith and Michael knew that they had thick-crust pizza that was actually very good. So I had a lovely calzone (as did Michael) and Mark a pizza (as did Judith), with Imke sampling a tomato salad, everything very fresh and yummy, and then we strolled across a flea market on the main square that was slowly nearing its end. We didn't end up buying anything, but it's always fun to see what people are selling! We left after checking out a very lavish former Benedictine convent with the usual imposing brick church and 20+ outbuildings that varied in style from "country house" to neoclassical temple, and a beautiful old oak that Michael estimated to be at least 500 years old, given its size. We then returned to J & M's apartment for a little while to rest.
Then the two drove us to our train station, Neumünster, where we all had gelato for dinner (since lunch was at 4 pm, that seemed appropriate), and by 7:30 we were on our train back to Osnabrück, with a short stop-over in Hamburg. Unfortunately, we had a huge delay in Hamburg (70 minutes for an ICE is a lot!) and so we were not really on our way until way after 9:30, and finally in Osnabrück at midnight, just at the right time to catch the last bus to Imke's house! We were good and tired. Nonetheless:
What a great weekend, and such wonderful times with both my sister and my mother. I can't believe how great the weather was—it was supposed to be significantly colder, but a) it was perfect for our excursions, and b) the lack of clouds made it seem much warmer than it was. So we were all actually grateful for the lower temperatures, especially since it is gearing up to be very hot again in Germany—beyond the extent of what is usual in Germany.